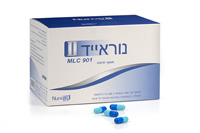 NurAiD™ is used for post-stroke rehabilitation.

NurAiD™ was registered in Israel in November 2012 after being evaluated in several randomized, double-blind, positive control prospective phase III clinical trials. Since then, NurAiD™ has been available in various countries including West European countries like France, Belgium and UK.
NurAid™, is a product of Moleac Pte. Recognizing the potential of NurAiD™ in addressing a major therapeutic gap, Moleac, a biopharmaceutical company headquartered in Singapore and with an office in France, has acquired
the exclusive right to develop and market this product internationally. NurAiD™ is a registered trademark of Moleac Pte Ltd.

With positive clinical data on recovery up to several months after a stroke, with the support and involvement of international key opinion leaders, and with ongoing post-marketing experience, NurAiD™ is the only available agent for post-stroke rehabilitation.

Recommended treatment includes two capsules at a time, three times a day. Standard treatment will last four to twelve weeks.

Route of administration: oral administration
NurAiD™ capsules can be:


swallowed as such with water

opened and drunk once powder has been diluted in water or poured into a half- solid food like Yogort.

opened and administered via a gastric tube once powder has been diluted in water
Interaction
To date, no harmful interactions between NurAiD™ and any other medicinal compound or between NurAiD™ and prescribed/OTC drugs have been observed. As a routine precaution, patients on an oral anticoagulant are advised to have their INR monitored initially in a similar way as for any changes in their prescription.

Side effects
Post-marketing pharmacovigilance has received two reported incidences of dry mouth.

Contraindications: the use of NurAiD™ in pregnancy and lactating women is not well established. No contraindications are known to date.